Promotional Products Work!
If you've used promotional products before, you know their power. If you're new to promo products, you're right to make them part of your marketing strategy. Research has shown time and again that promotional products work.
At T&N Promotions Plus you'll find a stunning collection of 15,000+ quality promo products, with more custom items being added every single day! Our merchandising team keeps this huge promo item collection up-to-date by staying on top of industry trends and forming close relationships with suppliers and manufacturers. With our finger on the pulse of the promotional products industry, you always have access to the hottest, newest, and most creative promotional items when you partner with us!
Our selection of imprinted items includes everything from custom tote bags and apparel to calendars and writing instruments. No matter what your budget, deadline, or project needs are, we have the products you need to achieve your goals! Speak with an expert Brand Consultant today to find out more about our growing inventory of best-selling promotional giveaways!
Featured Item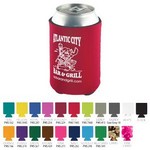 Beverage Insulator Cooler Pocket Can Coo...
Pocket Can Coolie is a collapsible can holder, made with 5mm thick foam laminated with cloth on the inside and out. We will print on both sides plus the bottom. Each side can have it's own unique impr...
$0.47 - $0.65
What Our Customers Are Saying

T&N Promotions Plus is an outstanding company. Nora is a dedicated owner, who is very creative, professional, and savvy business person. I highly endorse T&N Promotions Plus for any business who wants...
Stephen J Bailey
Bailey Contracting Services, LLC
Aug 17, 2010